Telecom (VOIP - Voice Over IP) Solutions
- Implementation & troubleshooting VOIP offerings including Cisco, Nortel, Avaya & Polycom systems.
Videocom (VOIP - Video Over IP) Solutions
- IPTV, Media Server, Web Server & Data Server.
WAN/LAN/Wireless Solutions
- Our Wired and Wireless Infrastructure services include PPPoE, IPSec, PPTP, L2TP, RAS, RRAS.
Network Security
- Intrusion detection/prevention. Routers, Firewalls, Content Filtering, Proxy, Socks & Gateway Servers.
Building network zones
- "green, yellow & red".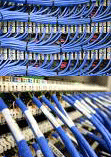 Designing and Structured Cabling Installation Solutions
- We are also experts in designing and structured cabling installation solutions for both data and voice networks.
Platforms
- We offer services on both Microsoft Windows and Unix Platforms,
these include, Windows 2003 Server & Windows Server 2008 support including clustering & Active Directory, Windows Small Business, MS Exchange and Citrix XenApp Servers.
Remote Access Solutions
- We Offer services on Citrix XenApp Server, Terminal Server and VPN client.
Storage System Solutions
- Disk Storage, Tape Storage, Storage Area Network (SAN)
Network Attached Storage (NAS & iSCSI), Multi-vendor Storage Software support including
Veritas NetBackup & IBM Tivoli Storage Manager.