At Cyril Moore Inc., we realize that poor end user adoption of technology initiatives is one of the most common reasons why IT projects fail.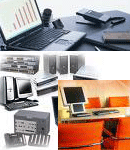 Result oriented and high performing companies must stay ahead and be open to new IT initiatives. These companies see IT initiatives as vital to their overall business success.

Cyril Moore Inc., have proven business and technology experts who will help lead your organization to achieve high performance goals by training your employees within your organization on the use of technology.

We will help your organization embrace new technology, become more agile, increase capacity, transform customer relationships, reduce project and business risk, streamline processes and reduce time to market.



Cyril Moore Inc. fulfills this need for IT Solution by providing clients with different levels of assistance, available in either monthly or yearly contracts. Our services include standard maintenance & repairs, data retrieval & back-up, anti-virus solutions and training your staff on your latest technology.